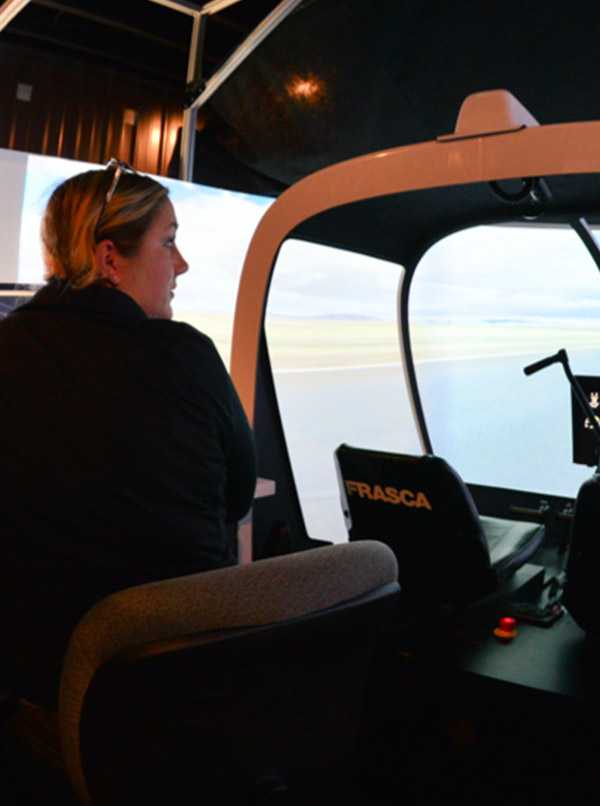 FAQs
HOW LONG TO A PROFESSIONAL PILOT CAREER?
Students in our Professional Pilot Program train with us from Private Pilot through Certified Flight Instructor (CFI) ratings. This takes an average of 18 months to complete. We see a typical flight training time range between 12 and 24 months and 200-250 hours of flight time. Most professional aviation jobs require at least 1,000-1,500 flight hours. There are many paths a commercial pilot can take to build flight time, but the most efficient is to work as a CFI.  
Additionally, the best way to truly learn your craft is to teach it. Our instructors use their immediate training and experience to instruct the next class of professional pilots, gaining flight hours and completing advanced ratings. Leading Edge predominately hires graduates who complete 100 percent of their flight training with us. Our instructors fly 50-70 hours per month and are typically ready to advance to their next aviation job in 18-24 months. 
After gaining the required flight hours, our CFIs take advantage of Leading Edge's pathways and industry connections to move into the next stage of their careers. This could be a regional airline, a tour company in the Grand Canyon, a floatplane operator in Alaska– and so much more. Leading Edge graduates find their dream jobs as high-time, high-performing fire, medical, airline, or search and rescue pilots.
HOW MUCH DOES THE FLIGHT TRAINING PROGRAM COST?
This answer depends on the individual, their experience, and their aptitude. The Federal Aviation Administration (FAA) mandates a minimum number of flight hours for each rating. IMPORTANT NOTE: you should NEVER budget for flight training based on the FAA minimums! Why? Flight training is highly individualized based on the student. 
Everyone progresses and learns at a different rate, and it may take one student longer or shorter to complete a certificate than another student. As you reach proficiency at each stage of training, your Certified Flight Instructor will endorse you to move you forward. Each flight lesson is billed based on time spent in the air or on the ground with your instructor. The best way to reduce the cost is to train each week consistently, spend plenty of time on self-study, and come prepared for each lesson.
For estimates on the helicopter program, see our Helicopter Financing page and our Helicopter Program Pricing. 
For estimates on the fixed-wing program, see our Airplane Financing page and our Airplane Program Pricing.
WHAT IS THE BEST WAY TO PAY FOR FLIGHT TRAINING?
The cost to become a professional aviator is an investment in your future. You should look at all your options and find the one that meets your needs. 
 Financing through a college degree program like Central Oregon Community College's Aviation Program (COCC) offers the most options, such as low-rate Federal student loans, private loans, Federal Pell Grants, and scholarships. Students certifying financial need through COCC can also receive housing and living costs.  
Students attending Leading Edge directly can apply for student loans through our lending partners, including Sallie Mae and Meritize. Sallie Mae offers students the Smart Option Student Loan, which can be used for all school-certified expenses. With a Meritize loan, you can get credit for your merit and potentially improve your loan options by sharing your academic history or military background. You can learn more by visiting our Airplane or Helicopter Financing pages. 
It is also worth exploring the plethora of aviation scholarships available.
WHAT FLIGHT RATINGS/CERTIFICATES WILL I RECEIVE?
Students in our professional pilot program earn their Private, Instrument rating, Commercial, Certified Flight Instructor, and Certified Flight Instructor Instrument certificates. At that point, they are eligible for hire as a flight instructor. While instructing, it is common to work towards your advanced ratings: multi engine commercial and multi engine instructor in the case of airplane; turbine, external load, night vision goggle, and mountain flying in the case of helicopter.
CAN I GET MY DEGREE WHILE I TRAIN? SHOULD I?
Yes! While not all aviation employers require a degree, it can open additional opportunities and shows a level of commitment and education greater than those without an aviation degree. Here in Bend, the Central Oregon Community College Aviation Program (COCC) allows students to earn an Associate in Applied Science and flight ratings in two years. In addition, students wishing to obtain a bachelor's degree can transfer to either Oregon Institute of Technology or Embry-Riddle Aeronautical University upon completing the COCC program.
WHAT WILL MY VETERAN BENEFITS COVER?
Using and getting the most out of the VA benefits you have earned can be complicated and confusing. 
Leading Edge Flight Academy is an approved vocational training school where you can use up to $14,881.59 annually towards training. This works great for students who want to add a rating or get specialized training and for students with other funding sources to pay the difference. 
Aviation degree programs are offered at several colleges across the country– however, not all are created equal with the same access to VA benefits. Here in Bend, Central Oregon Community College's Aviation Program offers in-house aviation degree programs for both Airplane and Helicopter. In these two-year programs, you will earn your Associate of Applied Science in Aviation and your flight certificates and ratings. If you have 100% eligibility under the Post 9-11 GI Bill ®, 100% of your flight training and tuition fees are included. You are also eligible to receive a monthly housing allowance and a yearly book stipend. For official advice regarding using your benefits at the college, don't hesitate to contact vetsed@cocc.edu.  
We would be happy to discuss your specific situation and help you utilize your Veteran Education Benefits to meet your goals. Don't hesitate to contact launch@flybend.com to set up a time to learn about your options.
WHAT IS FLIGHT TRAINING LIKE?
After enrollment, you will be assigned a flight instructor that will work one-on-one with you during each certificate and rating. All students in the professional pilot program are on a recurring flight schedule with at least three weekly training events. Our FAA-approved training syllabus guides training, and you will have progress checks as part of each rating. This ensures that training quality and consistency stay within our standards and you are adequately prepared to advance.   
Your flight instructor will tell you what to study and prepare in advance of each lesson. However, studying independently is a critical part of your flight training success. We encourage students to practice and learn on the ground many times first to make their time in the air even more valuable.   
A training event is a flight, ground lesson, or simulator session. Standard training flights are scheduled in two-hour blocks; students should allot around three hours total time for each flight. It is advised to arrive early and complete pre-flight activities before your flight block starts so you get the most time in the air. 
WILL I BE HIRED AS AN INSTRUCTOR AT LEADING EDGE?
Leading Edge gives first preference to hiring our students as instructors. Our graduates are familiar with the Bend airspace, Leading Edge's policies, and procedures and have experience training under the structure of an FAA-approved Part 141 program. Students completing 100% of their training at LEFA are given the first opportunity to interview for flight instructor openings.
ARE THERE PHYSICAL SIZE OR WEIGHT LIMITATIONS FOR STUDENTS?
All aircraft have limitations. While completing your training, part of what you will learn is how to operate each aircraft within these limitations. The most restrictive of our aircraft is the Robinson R22, the most common helicopter in the flight training industry. 
Helicopter students under 205 lbs can safely operate the R22 with an instructor in our operating environment. A student over that weight limit could train in the Robinson R44 helicopter. However, they would not be able to gain the experience necessary in the R22 to be authorized as an instructor in that helicopter. This limits their opportunity to gain the required hours to progress in their career effectively. 
Our primary airplane trainer is the Cessna 172, also very common for initial training in the industry. This aircraft has a greater payload margin that can accommodate most students. 
If you are concerned about your physical size (big or small), we are happy to discuss it with you.
IS HOUSING AVAILABLE DURING FLIGHT TRAINING?
We encourage students to explore all their housing options as they move to Bend. Leading Edge currently owns and operates two pilot houses with 16 single occupancy rooms to help give students an opportunity to find roommates and a more permanent place to live. Residents must be training at least 3x/week at Leading Edge. Contact us for current availability.
WHAT MEDICAL CERTIFICATE IS REQUIRED?
You should obtain a first– or second-class medical certificate before entering the program to ensure that you can pursue a career in commercial aviation. For a list of doctors (AME) who can issue FAA medical certificates, please visit Designee Locator Search (faa.gov)
HOW DO I GET STARTED?
Contact our Launch team at (541)383-8825 or launch@flybend.com. Before training, we will collect several documents, including our enrollment application, photo ID, and your passport or birth certificate. Before starting the solo phase of flight training, you must have an FAA Medical Certificate and an FAA Student Pilot Certificate.